Need Mulch?We're here to help!


MULCH: Cedar, Pine, and Bark Mulches
Mulches are extremely beneficial to any garden or planting. Mulch lowers maintenance by conserving moisture and suppressing weeds. Mulch improves the fertility of the root zone by adding organic matter as it decomposes and it keeps that root zone cool and moist even in the high heat of summer.
Below are the various colours to choose from. Other colours and varieties are available at your request.
Shredded Pine Mulch – Natural or Red Colour
uniform texture, great aroma | Natural colour turns reddish brown | reddish brown colour, ages to dark | acidic pH helps condition soil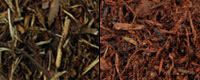 Classic Cedar Mulch – Natural or Brown Colour
freshly ground White Cedar bark | strong cedar aroma | long lasting, slow decomposition | golden brown colour, grays with age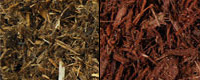 Black Bark Mulch
 processed from hardwood substrates | ground and aged for stability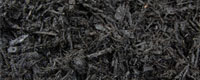 Natural Hardwood Blend
processed from fresh hardwood bark | ground and aged for stability | dark brown colour ages to gray | economical and commercial work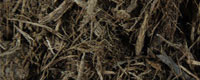 Helmlock Mulch
Greenhaze favourite | hardwood mulch | premium product | uniform texture | reddish brown colour | excellent colour retention | long lasting, slow decomposition | repels insects